November 20th, 2013
EGG HARBOR CITY – Retail is like fishing. Sometimes you need to change baits, even fish for something else.
Howard Sefton wasn't getting enough bites at his tropical fish store here in 1996 when a friend presented an unusual chance to try another part of the fish pond.
Local attorney Donald Shur's father had died, leaving the inventory for a bait and tackle shop – 300 fishing rods and reels, and a lot to go with them.
"Donald knew I had an empty store and he said let's make a deal: You open a bait and tackle store and we'll split the proceeds," Sefton said.
Thus was born Captain Howard's Bait & Tackle on Philadelphia Avenue downtown here, one of the activity centers for the region's large fishing community.
Sefton said it didn't take long to pay back Shur, who remains his friend and lawyer.
Since then, Captain Howard's has been a regular in The Press fishing reports of Mike Shepherd, and some impressive fish have come to its weigh station.
"Striped bass are very popular. My wife (and co-owner/operator, Robin) weighed in the then-record for a striped bass caught in fresh water, at 52 pounds," Sefton said.
Last year a customer brought in a 50 pounder caught at Brigantine, and the store sees lots of 30 and 40 pounders, he said. "A friend brought in a bluefish that weighed 24 pounds." Some fish photos are on the website, captainhowards.com.
With its location near many South Jersey freshwater lakes, the store also caters to inland fishing and sees pickerel and trout up to several pounds.
"We get a lot of largemouth bass and the biggest has been about 8½ pounds," he said.
Customers looking to catch fish come to Captain Howard's for Shakespeare, Penn and Okuma rods and reels, braided line from PowerPro and Sufix, and the popular Berkley Gulp synthetic bait.
Fresh bait at the store includes bloodworms, nightcrawlers, live grass shrimp, and lots of frozen fish, squid and clams.
The store's inland location also serves an odd fishing niche for South Jersey.
"We've got little rods 2-feet long used for ice fishing, retailing for about $20," Sefton said. "You put a piece of glass shrimp on, dig a little hole in the ice, drop the line to the bottom and catch a lot of white perch."
Captain Howard's also stocks some non-fishing items, mainly for vacationing campers and kids, including pool and river floats, cheap-fun remote control helicopters (two for $30), and a little selection of air soft guns.
Sefton still speaks with the endearing accent of his native England. He first crossed the pond to work in casinos in the Bahamas, and then came north to deal in the Trump casinos for many years.
Business has been good except for too much rain in spring and early summer, but this has been a rough year personally, he said, first suffering three brain aneurysms and then losing his father, who taught him to fish as a boy and died in May at age 85.
He expects a cold winter and "ice fishing should be in full force," Sefton said. "But I'm hoping it doesn't freeze. I'd like to be in Florida."
Contact Kevin Post:
609-272-7250
Captain Howard's Bait & Tackle
Location: 326 Philadelphia Ave., Egg Harbor City
Owner: Howard (55) and Robin Sefton, of Egg Harbor City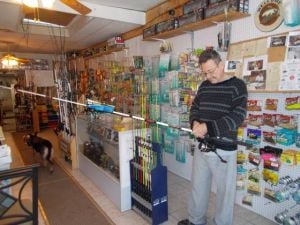 Started: 1996
Employees: 1
Phone: 609-965-7955